Specialist Manufacture of Towbars for Motorhomes
We have been offering a specialist towbar fitting service now since 1981, including manufacturing 'specials' for such as motorhomes. All are individually designed to suit the chassis of the vehicle, consist of fully welded and bolted steelwork which is securely bolted to the vehicle chassis in the appropriate places to sustain the loading you will apply either whilst towing or for the likes of scooter carriers.
The towing weights and nose weights will vary on each towbar and its application and will be very much determined by the details on the VIN plate and the type of chassis on the vehicle. For further details on 'Towing behind a Motorhome' we have additional information displayed on our 'FAQ's' page.
Price Guide £400-£500 plus VAT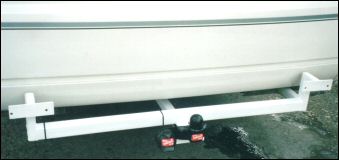 For Alko, Fiat, Mercedes, Peugoet, Hymer, Lunar, Bessacar, Ci, Autortrail etc...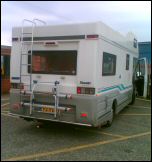 Included is complete manufacture and full fitment of steelwork in a primer finish, 50mm towball, 12N electrics fully wired including fog lights and Written 'lifetime' warranty.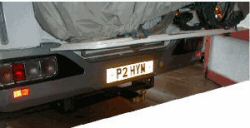 Once you have your towing bracket fitted, what will you be using it for ????
Visit our other pages to view the vast range of quality trailers which we can offer...
Motorbike trailers Camping trailers Mobility style trailers Car Transporter trailers
Low loader trailers Rolling chassis Boat trailers etc ...