Witter Towbars
Established since 1950, WITTER are Britain's leading towbar manufacturer. They offer a range of over 800 towbars covering the majority of makes and models.
Written warranty certificate with every fitting.
We have a number of videos on YouTube, demonstrating various towbar fittings and towbar types.
Committed to Quality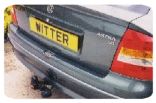 Every Witter Towbar carries our shield of Safety which is a symbol of quality backed by a genuine lifetime guarantee. We have the confidence to offer such a guarantee because of years of continuing investment in skills, technology and quality systems.
Fully qualified engineers utilise the latest 3D Cad systems to designs towbars to fit all the vehicle manufacturers specified attachment points. All towbars are manufactured using high strength structural steel plate, tube and section, these materials being formed and shaped into components by employing a variety of modern production techniques including a multi-head computer controlled cutting and profiling machine. Fabrication is carried out on a jig system, using 14 robotic and over 20 manual welding stations, ensuring a high degree of accuracy and weld quality. A long life and increased protection is achieved using the most advanced water based paint technology which also removes potentially dangerous solvents from the workplace and environment. Quality control is a key element throughout the whole manufacturing process with checks carried out at every stage of production even to the extent of weighing each box that is shipped out to confirm that all the components and included.
This investment in skills and technology ensures that Witter Towbars continue the tradition of excellence established since 1950. Fitting Witter gives you the confidence that you are providing your family and other road users with the security that only Britain's best selling towbar can bring. Truly the Towbar to Trust.
EC Type Approval Standards
Witter are at the forefront of testing to the new EC specification requirements using computer controlled servo-hydraulic test rigs which put towbars through a punishing two million cycle fatigue test.
These requirements became mandatory under European Law from the 1st January 1998 and were implemented in the UK on the 1st August 1998, this means only towbars Type Approved to 94/20 EC can be fitted to light passenger vehicles first registered on or after the 1st August 1998. Our commitment to the new regulations has been ongoing for a number of years in fact, we were awarded the first UK towbar Type Approval number 00-0001 in 1995. All new towbars for light passenger vehicles are designed, tested and certified to 94/20 EC.
For further information on Type Approval please view our page on Towing and the Law
Directive 94/20 EC also specifies the dimensions, location and clearances of the 50mm towball. The centre of the towball should be between 350mm and 420mm above the ground when the vehicle is laden. This is appropriate for most vehicles but when a partially laden car requires a lower towball height, it is possible to fit a 'drop plate' to the standard two hole fixing on towbars fitted to vehicles registered before the 1st August. However, this should never be used as a raiser plate.
BS EN ISO 9002
As further proof of our commitment to quality, Witter have full accreditation as a BS EN ISO 9002 Quality Assured Company. This internationally recognised quality standard helps to ensure that our towbars continue the tradition of excellence established for nearly 50 years.